Complete 10 (15 hours driving theory – in class or online – and 10 hours in-car)*
$699 (plus GST) Enroll
This provincially approved driving course consists of 15 hours of classroom driving theory and 10 hours of in-car training. When a student successfully completes both the driving theory and in-car training they will receive a certificate that can be used for insurance reduction purposes. The certificate tells the insurance company that this person has the equivalent of three years of excellent driving experience. This is why the standard for passing the driving course is significantly higher than the standard for passing the class 5 GDL road test. 
Please note: Students with minimal driving experience will almost always need more than 10 hours to meet the requirements for the driving course. In this case students will have the option to purchase additional hours at a reduced rate. 
Complete 14 (15 hours driving theory – in class or online – and 14 hours in-car)
$849 (plus GST ) Enroll
The Complete 14 driving course is perfect for the driver who is really new or just wants that extra edge when it comes to driving. If you know that getting practice in between lessons is going to be a struggle then this is the course for you. 
Complete Refresher (Hourly in-car training)
$65/hr (GST Included ) Enroll
In this lesson the student will be assessed by the instructor and provided instruction and direction based on the student's abilities. This would be perfect for the student wants to refresh his or her driving skills prior to doing the class 5 GDL, class 5 non-GDL, or class 4 road tests. 
We require 24 hours notice prior to the cancellation of in-car lessons. Cancellations with less than 24 hours notice are subject to a $75 cancellation fee payable prior to the next in-car lesson. 
*All classes include free pick up in Red Deer. 
The minimum number of hours required for a provincially accredited driver training course is 15 hours in-class and 10 hours in-car. 
Did you know?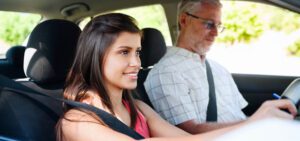 Driving-School 
Alberta Transportation recommends 30-40 hours of practice before a student is ready for his or her road test? If a student has had plenty of experience prior to driving lessons, often 10 hours of in-car lessons are sufficient to meet the requirements for the driving course. On the other hand, if the student has minimal driving experience, it is very unlikely that he or she will, with only 10 hours of in-car lessons, acquire the necessary skills to meet the requirements for the driving course. 
It is best that students have the opportunity to practice their new found skills in between their lessons. If students aren't able to do this then it is advisable that they consider a 15 or 20 hour course in order to obtain more guided practice. One is able to purchase extra driving hours at a reduced rate.